The latest report by The Australian Needle Syringe Program (NSP) Survey marks 25 years of significant research conducted in partnership with a marginalised community, and reveals the key trends of the last decades.
The NSP Survey monitors HIV, hepatitis C and sexual and drug use behaviours among people who inject drugs and is one of the longest running surveys of its kind internationally. It is led by Professor Lisa Maher at the Kirby Institute at UNSW Sydney.
The report shows that over the past 25 years, HIV prevalence has remained remarkably low (less than 3%). Although hepatitis C prevalence has been historically high, prevalence has significantly declined in recent years.
"This is a testament to the bi-partisan support that was achieved when Australia established Needle Syringe Programs to prevent transmission of blood borne viral infections in the late 1980s," says Professor Lisa Maher.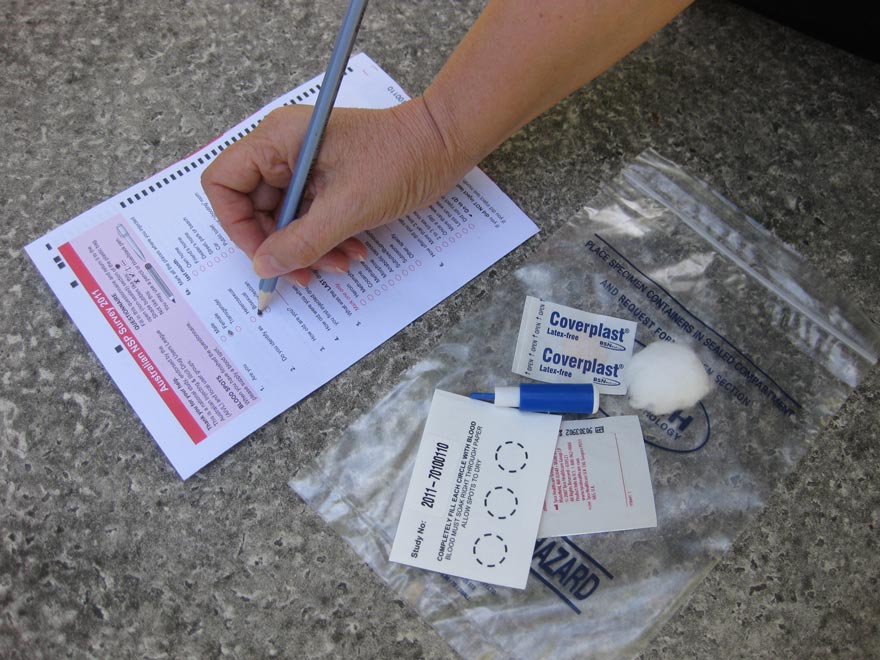 Why counting the numbers counts
"Too often, the people most in need of targeted and specialised healthcare are the people we know the least about," says Melanie Walker, CEO of AIVL (The Australian Injecting and Illicit Drug Users League) and a collaborator on the NSP Survey.
"Around the world, people who inject drugs are marginalised and stigmatised, and this forces them away from mainstream health services. It also means they are excluded from standard health data collection, which places them at risk of being excluded from health policy and health service design."
Data informs what health services look like, where a service is located and how much funding is dedicated to it. Data tells us where we have a health problem, and how effective our efforts to combat it are.
"25 years of annual surveys among people who inject drugs is a monumental achievement for Australia. Few countries have had quite this achievement," says Ms Walker. "This report represents 25 years of ensuring the health of people who inject drugs is measured and recorded. It means that in Australia at least, our communities are visible," continues Ms Walker.
How is the data collected?
Many people who use drugs access sterile injecting equipment through a Needle Syringe Program outlet. These are located all over Australia, offering people who use drugs access to advice, information and referrals alongside sterile needles and syringes.
"Australia's comprehensive network of more than 4,000 Needle Syringe Programs is one of the best in the world," says Dr Jenny Iversen, who has coordinated the study and authored the NSP Survey Report for more than a decade. "Access to sterile injecting equipment and drug use advice was pivotal to Australia achieving such low HIV prevalence among people who inject drugs, and it has played a major factor in our recent hepatitis C reductions.
"Support from Needle Syringe Program staff and clients is also the key to why the NSP survey produces such high quality and useful data."
Dr Iversen says we are fortunate to be in a position to build on the trusted relationships between Needle Syringe Program staff and people who use drugs.
"For two weeks in October each year, the survey is supported by around 50 NSPs across Australia. During this week, all attendees are invited by NSP staff to participate in the anonymous survey. Those who agree complete a brief self-administered questionnaire and provide a capillary dried blood spot, which is small prick of blood from the finger."
Over 25 years the survey has collected robust and consistent data in relation to injecting and sexual behaviours, history of testing for bloodborne viruses, imprisonment, and drug treatment.
"When we match the survey data with the biological data, we don't only learn about the prevalence of bloodborne viruses among people who inject drugs, we learn about the behaviours that may increase risk, and we also learn about prevention strategies developed within these population, and ways to harness existing safety strategies to maximise health outcomes," says Dr Iversen.
What does 25 years of data tell us?
The 2020 report analyses data among the 57,000 respondents who have participated since 1995, and measures trends over the past 25 years. Over this time, HIV prevalence has remained stable and very low, while hepatitis C has significantly declined in recent years, largely due to the availability of direct-acting antivirals (or DAAs) which cure hepatitis C in most people. These treatments have been available through the PBS in Australia since 2016.
The NSP Survey has monitored hepatitis C prevalence through an antibody test (that measures lifetime exposure to infection) since 1995, but has also conducted an RNA test (to monitor current infection) since 2015. When the two test results are combined, researchers can determine the proportion of people who have been infected but are now effectively cured of the virus.
"In 2015, prior to the introduction of DAAs, the proportion of people who inject drugs living with hepatitis C was one in two," says Professor Lisa Maher, who leads the NSP Survey. According to the 25-year report, this has reduced to less than one in five in 2019.
"These reductions are unprecedented and indicate that a population-level reduction in hepatitis C prevalence is achievable through high levels of treatment and cure among people who inject drugs."
Impact for all to C
Australia is set to become one of the first countries in the world to eliminate hepatitis C, and researchers, policy-makers and community leaders agree that it has done so by putting affected populations at the heart of the hepatitis C response.
"The data we have in Australia thanks to the NSP Survey highlights the benefits of investing in robust sentinel surveillance to monitor trends in drug use, sexual and injecting risk behaviour, treatment uptake and prevalence of blood-borne viral infections among people who inject drugs," says Professor Maher. "This is absolute best-practice when it comes to biobehavioural surveillance systems to investigate the health of people who inject drugs."
Over 25 years, the reports have informed drug and health policy and practice in Australia and globally, including UNAIDS Global AIDS Monitoring and the World Health Organization (WHO) Global Health Sector Strategy goals to eliminate HCV as a public health threat by 2030 (World Health Organization, 2016).