The Kirby Institute celebrates the exceptional career of Emeritus Professor Praphan Phanuphak, who has retired after a decades-long career in HIV research and leadership in Thailand and globally.
"Professor Praphan's decades of commitment to HIV research have helped to drastically reduce HIV incidence in Thailand, debunked stigma, and been pivotal to training future generations of researchers and doctors," says Professor Anthony Kelleher, director of the Kirby Institute. "His work has truly changed the world for the better and saved countless lives."
Professor Praphan has been a leader in setting the agenda for the HIV response in Thailand as well as the broader Asia-Pacific region. When the HIV pandemic swept Thailand in the 1980s, he was one of the first responders, and diagnosed the first three cases in the country. Since then, he has been at the helm of Thailand's response to HIV through his involvement in establishing key services and organisations that encourage and facilitate both testing and treatment of HIV in a nation where the stigmatisation can be profound and resources limited.
Professor Praphan has conducted some of the region's – and the world's – most ground-breaking AIDS research at Chulalongkorn University, the Thai Red Cross AIDS Research Centre and the HIV-Netherlands Australia Thailand (HIV-NAT) Research Collaboration.
He founded the Thai Red Cross AIDS Research Centre in 1989 and served as its Director from 1990. He was also Director of the HIV Netherlands, Australia, Thailand (HIV-NAT) Research Collaboration, and co-founded the collaboration in 1996 along with the late Scientia Professor David Cooper, the Kirby Institute's inaugural director, and the late Professor Joep Lange from the Amsterdam Institute for Global Health and Development. The trio had a lifelong friendship and were extremely proud of the ground-breaking collaboration, which, carried forward by Professor Praphan, remains a gold-standard research institution to this day. It is through this friendship that the Kirby Institute forged close ties with our colleagues in Thailand, and we continue to work in close collaboration.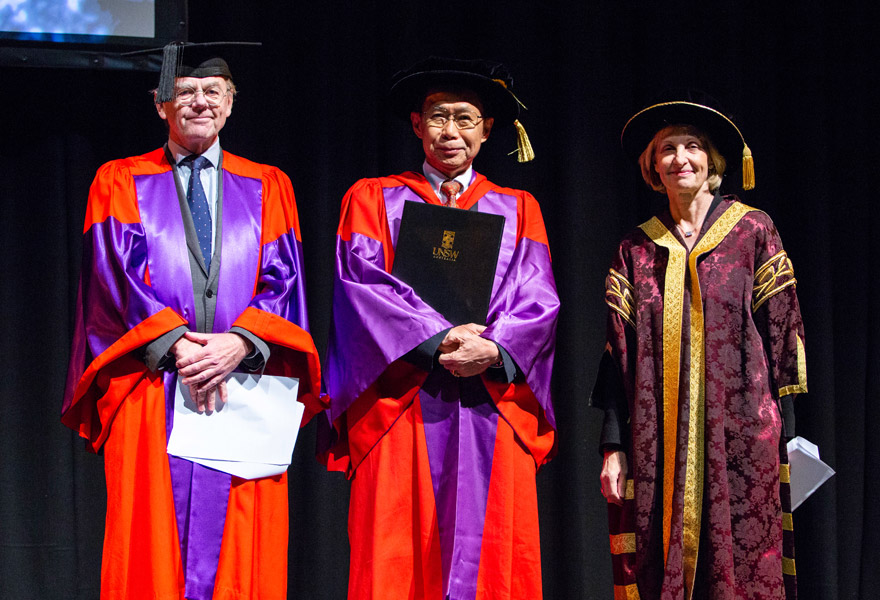 Emeritus Professor Praphan Phanuphak (centre) received a Doctorate of Medical Science, honoris causa in 2018, conferred by Professor Rodney Phillips (left), Dean of UNSW Medicine, and Jillian Segal (right), Deputy Chancellor of UNSW.
Leveraging his research expertise and leading profile in the field, Professor Praphan has been committed to promoting and fostering information and resource sharing among those with expertise across a range of disciplines and professions, in order to achieve optimal outcomes for people living with HIV in Thailand and globally.  He initiated the annual Bangkok International Symposium on HIV Medicine, which brings together researchers, practitioners, policy makers and other stakeholders from around the world to engage and collaborate on the international HIV response. He has also facilitated the education of doctors and practitioners in HIV/AIDS testing and treatment through the Thai AIDS Society.
Professor Praphan has served on a number of international committees on HIV, and through his determination and advocacy, he secured the support of Her Royal Highness, Princess Soamsawali of Thailand, which has been pivotal in the rollout of a number of HIV services and access to testing, treatment and prevention for the Thai community.
He is a staunch promoter of a human rights-based approach to public health, and throughout his career has advocated globally for harm reduction, including condom use, safe needle use for people who inject drugs, and safe sex practices for sex workers.
Professor Praphan Phanuphak has made an indelible mark upon the community. Through his exceptional research, advocacy and leadership, he has been instrumental in greatly increasing the number of people receiving HIV testing and treatment in Thailand, as well as the vast reduction in new HIV transmissions and, crucially, de-stigmatisation for people living with HIV in Thailand. We congratulate him on an extraordinary career.
Header Image
The co-founders of HIV-NAT (L-R): Professor Joep Lange, Emeritus Professor Praphan Phanuphak, Professor David Cooper