Although the COVID-19 pandemic has prevented in-person gatherings and celebrations this year, colleagues from the Kirby Institute, UNSW Sydney and ViiV Healthcare were delighted to attend a virtual celebration with the participants of the inaugural Cooper HIV/AIDS Research Training (CHART) Program as they graduated from the Program last week.
The participants beamed in from Indonesia, South Korea, the Philippines and Myanmar, having completed three week long intensive workshops over the past year with researchers from across the Kirby Institute.
The Program, funded by ViiV Healthcare, aims to expand the number of skilled and experienced HIV researchers in the Asia-Pacific region, at the same time as addressing local HIV priorities. We were fortunate to have been able to host the participants at the Kirby Institute for the first two workshops last year, taking place across two weeks, when they were paired with research mentors from across the Kirby Institute's programs.
The Program was unique in its hands-on approach, engaging Kirby Institute staff with a diverse range of expertise. Professor Anthony Kelleher, Director of the Kirby Institute, gave the opening address, congratulating the participants in a pre-recorded message. He also thanked and commended the mentors from across the Kirby Institute for their involvement in the program. "I congratulate the CHART scholars under these extraordinary circumstances. I hope the course had been very rewarding, that you have made new contacts, built up networks and learnt new ways of doing research that will help you grow into future larders in our region in the areas of infectious diseases research," he said.
Scientia Professor John Kaldor, head of the Kirby Institute's Public Health Intervention Research Group, is a senior member of the CHART Program steering committee. He gave a welcome, and addressed the group by paying tribute to the diversity and dedication of the participants, and the far-reaching impact of the Program. "It's not an exaggeration to say it's quite a unique format of a Program, and we have all learnt a huge amount. It has been fantastic to see that progress even during these obstacles that we didn't anticipate," he said.
Where are they now?
Guests at the event were treated to an update from each of the participants themselves. Despite the many challenges that COVID-19 pandemic has presented this year, including that they had to complete the final CHART workshop remotely, the eight participants are now pursuing careers in their respective fields whilst working towards having their research published in a peer-reviewed journal. 
Patrick Castillo Eustaquio, who joined from the Philippines, has achieved a remarkable amount over the past year. He had an oral poster accepted into the AIDS2020 Virtual Conference, the 23rd International AIDS Conference which is a biannual event coordinated by the International AIDS Society and the world's largest conference on HIV/AIDS. In addition, he has been offered admission to Master of Public Health programs at two UK universities, with recommendations from Kirby Institute researchers he met through CHART. "This program has really changed my life," he said. Patrick will be enrolling at Imperial College, London this year.
Kathryn Uy Roa is a healthcare worker in the Philippines, and has been working on the front line of her community's COVID-19 response whilst completing her CHART research paper.
Dona Arlinda joined the event from Indonesia, and has been working hard on completing her project, 'Late presentation of HIV infection in 18 referral hospitals in Indonesia: Trends and characteristics from the INA-PROACTIVE cohort', whilst caring for the newest member of her family, her baby boy, who made an appearance at the graduation.
Win Le Shwe Sin Ei, originally from Myanmar, is based in Sydney. She is working on her research project, 'The prevalence and management of non‐communicable diseases among People Living With HIV in Dawei District of Southern Myanmar' and was proud to show the other CHART participants around when they were here last year.
Nurhayati Hamim Kawi, who is based in Indonesia, is also in the process of completing her project and working to submit a paper. Her project is Risk Factors associated with syphilis infection among Men Sex with Men (MSM) attending urban sexual health clinic Jakarta, Indonesia.
Phyo Pyae Nyein joined from Myanmar, and is working to submit a paper for her research, 'Association between Social Determinants of Health and Health Outcomes among Advanced HIV Patients in Myanmar: A Secondary Data Analysis'. She has had an abstract accepted to the Asia-Pacific AIDS & Co-Infections Conference (APACC) 2020, which is taking place in October.
Luxi Riajuni Pasaribu from Indonesia, was unable to attend, but is also completing her work to submit to a journal.
In Young Jung, from South Korea, was also unable to join us. She has been heavily involved in the frontline response to COVID -19 in South Korea and is also working on her manuscript.
In each of their addresses, in addition to the skills they will implement in their countries, the participants paid tribute to the friendships and connections they formed through the CHART Program. They all remain in touch with each other, and plan to meet in person when COVID-19 restrictions allow international travel to resume.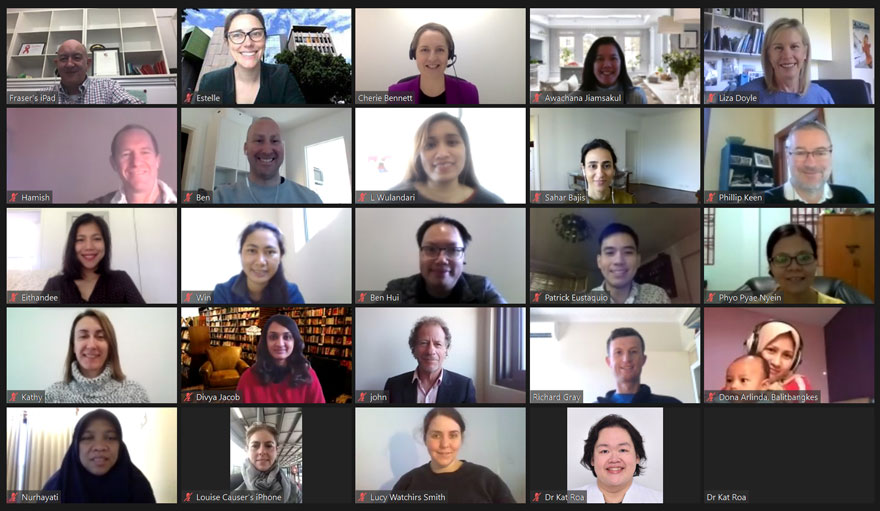 The CHART virtual graduation ceremony
A legacy continues
Dr Fraser Drummond, Medical Director Australasia at ViiV Healthcare, was also present, and was proud of the achievements and outcomes that the CHART Program had enabled for the next generation of researchers in our region. In his remarks, he paid tribute to the late Professor David Cooper, whose idea to enhance research training in our region he shared with Dr Drummond in 2016, and ultimately came to fruition with the program named in his honour.
Following a photo dedication, showing the journey of the first cohort of CHART participants from the initial workshops in Sydney last year, to the virtual sessions and reflections on their current circumstances amidst the global COVID-19 pandemic, Cherie Bennett, CHART Program Manager, gave the closing remarks.
Reflecting on the first year of CHART after the graduation ceremony, and the circumstances in which these first participants completed the Program, she says, "We are so proud of each of the participants, and all the Kirby Institute mentors and teachers. This Program has been a unique opportunity for Kirby Institute researchers to pass on their extensive knowledge directly to the next generation of HIV researchers in our region. Although we conducted this graduation ceremony virtually, it was an honour to hear from each of the participants about their amazing achievements. They will continue to make a great impact in their communities. We look forward to keeping in touch with them, and to the CHART Program resuming in 2021."
The CHART Program is supported by an unconditional education grant from ViiV Healthcare. The Kirby Institute is a global partner of the Structured Operational Research Training Initiative (SORT IT), coordinated by TDR, the Special Programme for Research and Training in Tropical Diseases, hosted at the World Health Organization.
Header Image
The CHART participants (front row) and Kirby Institute team involved in CHART in 2019/2020. Image taken at the Kirby Institute at the end of Workshop 2 in August 2019.