The COVID-19 pandemic has instigated a dramatic shift in the way that we work, study and gather, and one event that has been impacted is the graduation ceremonies that mark the completion several years of intensive and dedicated study, and the conferral of the degrees that candidates have worked so hard for.
The Kirby Institute has a proud history of higher degree research supervision, and although they have been unable to attend a physical graduation so far this year, we are delighted to announce the conferral of 11 PhD degrees and one Master degree so far in 2020.
"I commend the efforts of our graduates to complete their studies, especially doing so in this changing and often challenging environment," says Professor Anthony Kelleher, Director of the Kirby Institute. "Whilst unfortunately graduation ceremonies have had to be postponed this year, I am delighted to recognise and celebrate their achievements."
The Kirby Institute's recent graduates, and their thesis titles, are:
Rosemary Aogo, Mathematical modelling to understand the mechanisms of action of antimalarial drugs and host responses in malaria infection
Adam Bartlett, Management and outcomes for adolescents with perinatally acquired HIV infection in Asia
Hao Bui, Epidemiology of HIV among men who have sex with men in Hanoi, Vietnam: Prevalence, associated factors and engagement in HIV testing and treatment
Adam Craig, Enhancing outbreak early warning surveillance in resource-limited Pacific Island countries and territories
Mohamed A. Hammoud, Emerging practices and the potential to change HIV epidemiological trends: Pre-exposure prophylaxis as biomedical HIV prevention among gay and bisexual men who participate in chemsex
Elan Lazuardi, Navigating the social dynamics of HIV care: a qualitative study in urban Indonesia in the era of scaled-up testing and treatment
Linh-Vi Le, Informing and evaluating HIV and HCV prevention programming for female sex workers using repeated cross-sectional surveys and integrated analysis with program data
Stella Nalukwago, Measuring and valuing societal and offender preferences for treatment programs - an economic perspective
Samson Ogunlade, Modelling malaria parasite survival strategies in the human host (Master of Science by Research)
Alberto Ospina Stella, Resolving the intersection of HIV and F-Actin in the context of cell-cell viral spread
Steven Philpot, Australian gay mens regular relationships in the context of monogamy, non-monogamy, and HIV prevention
Stefanie Vaccher, Adherence to HIV pre-exposure prophylaxis (PrEP) in New South Wales, Australia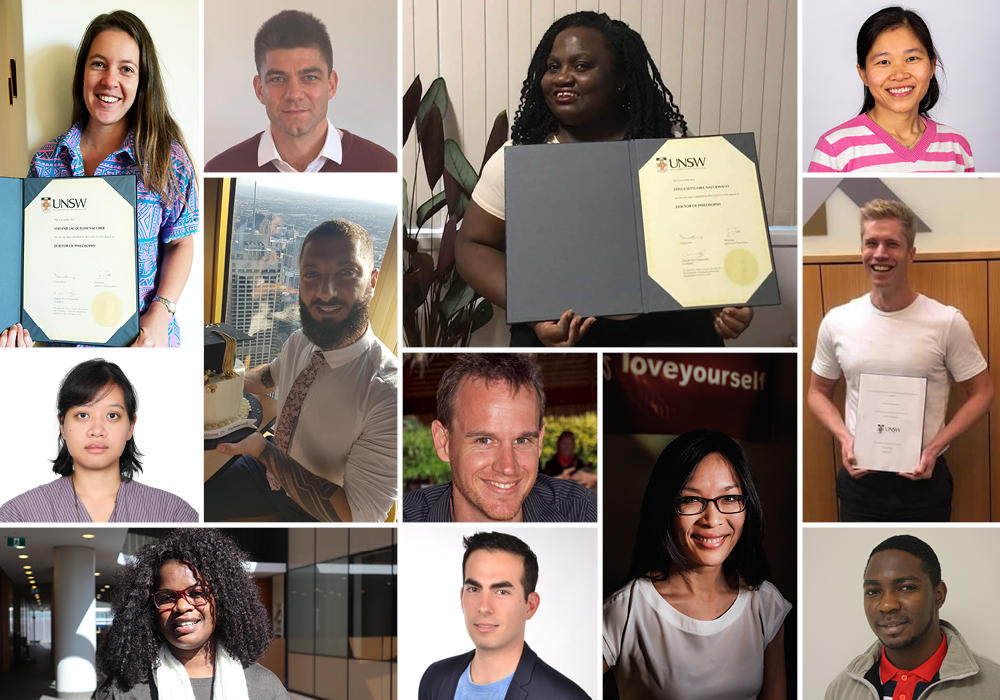 Our graduates from left to right, top to bottom: Stefanie Vaccher, Adam Bartlett, Stella Nalukwago, Hao Bui, Mohamed A. Hammoud, Steven Philpot, Elan Lazuardi, Adam Craig, Linh-Vi Le, Rosemary Aogo, Alberto Ospina Stella, and Samson Ogunlade.
We extend our sincere congratulations to the Kirby Institute's recent graduates, who, in addition to achieving their doctorates, in doing so make an enormous contribution to the work of the Kirby Institute. We wish them all the best in their future careers and endeavours.