Researchers in Myanmar have released the results of a large study, published in the Journal of Gastroenterology and Hepatology, comparing two treatment regimens for Helicobacter pylori, a bacterial infection that is the world's most common cause of stomach cancer. The findings have the potential to significantly reduce the cost of treating the infection.
The study was undertaken by local Myanmar and Kirby Institute researchers through the Myanmar Australia Research Collaboration for Health (MARCH). It is estimated that 50% of Myanmar's population is living with H. pylori infection and this study is the largest ever to examine the local epidemiology of the infection and its management.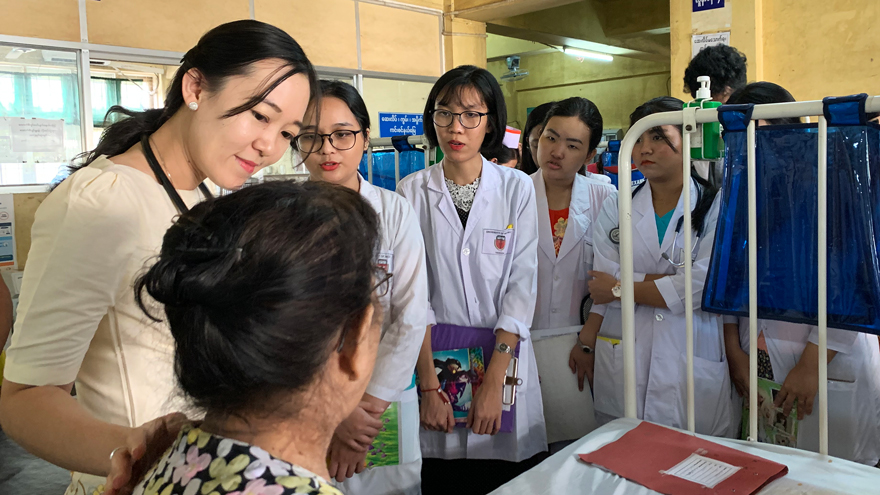 Dr Phyu Sin on a teaching ward round with medical students at Insein General Hospital
The ins and outs of H. pylori
H. pylori infection is usually asymptomatic but one in ten people with the infection will develop stomach or duodenal (intestinal) ulcers. Up to 3% will develop stomach cancer. In Myanmar, H. pylori is estimated to cause a similar number of deaths as HIV/AIDS annually, but the infection remains relatively neglected. 
Dr Nan Phyu Sin Toe Myint, the paper's lead author, undertook this study for her PhD and says despite H. pylori being quite easy to diagnose and cure, there are many barriers in Myanmar to its treatment. "In Myanmar, the health budget is limited and the burden of acute illness in hospitals can be overwhelming. Infections like malaria and tuberculosis can have a dramatic clinical presentation, allowing infections with less severe symptoms, like H. pylori, to be overlooked. All too frequently, patients seek help too late, when their stomach cancer is advanced and when little can be done" she explains. 
H. pylori is usually acquired during childhood and is more common in people in low- and middle-income countries, particularly the poorer members of these societies who are frequently living in very crowded housing without access to adequate sanitation. Reaching these patients is often difficult. Although testing for H. pylori costs less than AU$5, even this is challenging for a population where the median monthly household income is less than AU$75 per week.
"H. pylori is curable with antibiotics and once it is gone, it rarely comes back. However, our first-line 14-day regimen is expensive, which represents another barrier to treatment," says Dr Phyu Sin. "In this study we found that a simple 10-day regimen is significantly cheaper – less than half the cost."
The study was performed at Insein General Hospital, in Yangon, Myanmar's largest city. One third of the 1,011 patients tested positive for H. pylori infection and were placed on one of two antibiotic treatment regimens. The first was the currently recommended first-line recommended treatment of 4 drugs for 14 days (140 pills); the second was an alternative regimen called sequential therapy, where the same antibiotics were taken in a staggered manner over 10 days (60 pills). The investigators were pleased to find that while both treatments cured well over 90% of the patients, sequential therapy costs only AU$14.50 compared with the AU$33 cost of the standard current treatment. 
"Sequential therapy was as effective, as well-tolerated, but cost less than half the price of the current first-line treatment regimen," explains Dr Josh Hanson, who was chief investigator on the study and one of Dr Phyu Sin's PhD supervisors. "In a country of over 50 million people, where the infection is so common and where the burden of Helicobacter-related disease is so great, the potential impact of this finding could be enormous."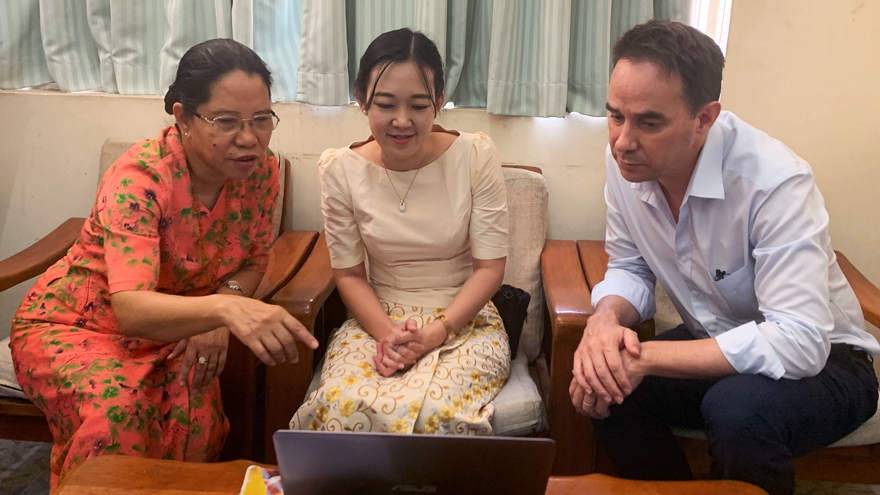 Dr Phyu Sin discussing the study's results with her supervisors Professor Mar Mar Kyi and Dr Josh Hanson
A researcher MARCHing towards her vision
Dr Phyu Sin is from Shan State, which is the largest state in Myanmar. It is a predominantly rural state with a rich mix of different ethnic populations, but it has a far less developed health infrastructure than that which is present in Yangon. 
"Although I often feel that we could be doing better in Yangon, in Shan State, there are even fewer healthcare workers which means that people are not being tested and treated for curable infections such as H. pylori," says Dr Phyu Sin. "Since I left my hometown to attend medical school 20 years ago, I have only been able to return on rare occasions. Hopefully, one day I will be able to improve the delivery of health care to the people in my homeland," she added.
As a young doctor and researcher, Dr Phyu Sin recognised a significant gap in local knowledge about the best way to the infection. "Stomach cancer and bleeding ulcers are a common cause of hospitalisation in Myanmar. When patients present with cancer, the reality is there is frequently little chance of cure. I chose to undertake this work for my PhD study so I could help determine if there was a better way to prevent the ulcers and cancers developing in the first place."
Dr Phyu Sin will be awarded her PhD for this work in February 2020 and the training she has received through MARCH has inspired her to continue to perform clinical research to find health solutions for the people of Myanmar. It is work that Dr Hanson, who is the Kirby Institute's clinical lead in Myanmar, hopes will encourage others to join the collaboration.
"This collaboration is not only enhancing the training of some of Myanmar's brightest and most talented clinicians, but with their dedication and knowledge, we are able to fill important gaps in understanding the particular health issues of the country and region" he says.
Header Image
Dr Phyu Sin reviewing a patient with MARCH research assistants (L-R) Dr Thet Tun Zaw, Dr De Zin Kyaw and Dr Pyae Nyein Chann