It is with sadness that the Kirby Institute joins our colleagues in Myanmar and Australia in grieving the loss of Professor Mar Mar Kyi, a leader in infectious disease research and clinical care in Myanmar, and one of the founders of the Myanmar Australia Research Collaboration for Health (MARCH). She passed away on Monday after a short illness.
Prof. Mar Mar Kyi was an enormously influential and highly regarded clinician, educator and researcher in Myanmar. As a Professor of Medicine at the University of Medicine 2 (UM2) in Yangon and a member of the executive committee of the Myanmar Medical Association, her impact was far-reaching.
She was one of the founding members of MARCH, a collaboration between clinicians and researchers at the Kirby Institute, UNSW Sydney and UM2. Prof. Mar Mar Kyi drove the collaboration forward in partnership with the late Professor David Cooper and helped establish a world-class infectious disease laboratory at UM2. More importantly, MARCH has helped build local clinical research capacity, supporting the work of a strong cohort of young researchers who will lead medical research in Myanmar in the future.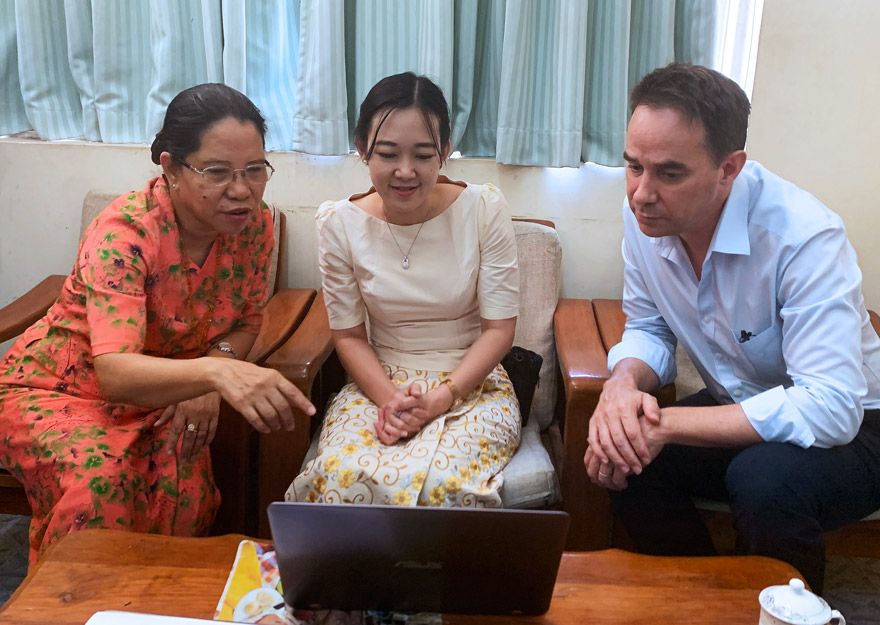 Professor Mar Mar Kyi supervised numerous students to the successful completion of their doctoral thesis and Masters degrees. Pictured here with a student (centre) and Dr Josh Hanson (right).
Dr Josh Hanson, the Kirby Institute's project lead for MARCH, worked alongside Prof. Mar Mar Kyi for eight years, and remembers her as a dynamic and inspirational clinician who was passionate about improving the healthcare of the people in her community. "Professor Mar Mar Kyi was a wonderful friend and an incredible role model not just for the young clinicians who worked with her, but for everyone who met her. She was an outstanding clinician and researcher, and it is no exaggeration to say that MARCH could not have happened without her," he said.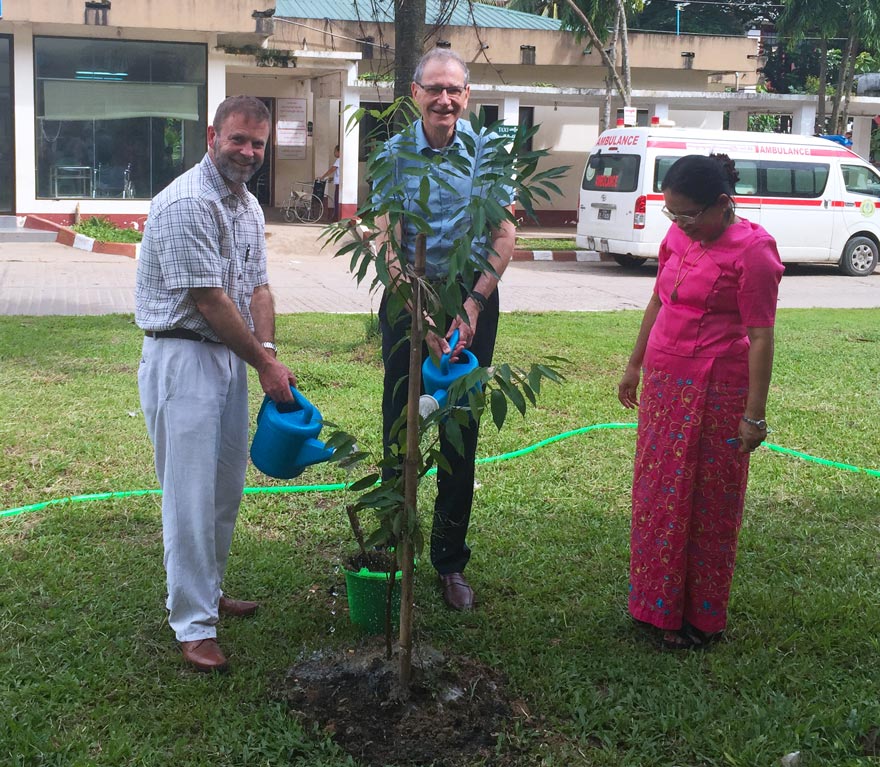 Professor Anthony Kelleher (left) and the late Professor David Cooper (centre) watering the Kant Kaw tree which they planted with Professor Mar Mar Kyi which stands outside Insein General Hospital to this day.
Professor Anthony Kelleher, Director of the Kirby Institute, visited Myanmar on many occasions, helped establish the laboratory and facilitated the inaugural MARCH Symposium. "Professor Mar Mar Kyi was the quiet, insightful driving force behind MARCH," he said. "She truly inspired many of the young physician PhD and Masters students to take on critical infectious disease research at Insein General Hospital and UM2. Her vision and drive ensured the MARCH collaboration flourished because of the work it was doing and the young researchers it attracted and steered towards success. This is a huge loss to all of us, and particularly health care in Myanmar."
Professor Aye Thida, Professor of Medical Education at UM2, worked very closely with Prof. Mar Mar Kyi. She said, "This is an irreplaceable loss for the University of Medicine 2, Yangon, and the Myanmar Internal Medicine Society. She will be remembered by us as an inspirational leader, beloved teacher and colleague."
We extend our sincere condolences to Prof. Mar Mar Kyi's family, friends and colleagues. She will remain an inspiration for our work with our Myanmar colleagues and friends into the future.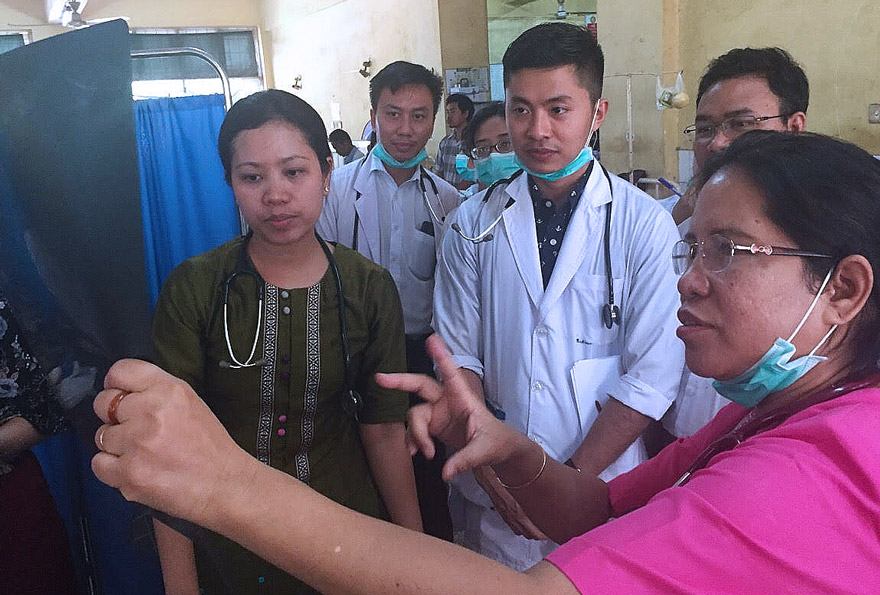 Professor Mar Mar Kyi teaching junior colleagues on her daily ward round at Insein General Hospital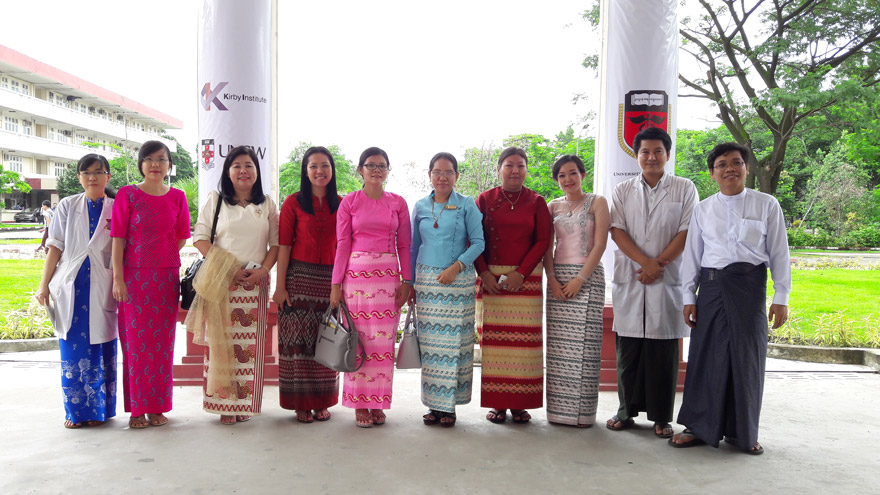 Professor Mar Mar Kyi (centre in blue) with members of her team from Insein General Hospital and UM2