Two of Australia's leading health advocates received the HIV Hero Award at the ACON Honour Awards this week.
The Kirby Institute's Professor Basil Donovan AO, and his longtime collaborator and friend, Julie Bates AO, received the award for their service and contributions to the HIV response, especially in relation to sex worker health. "Through their combined efforts in advocacy, support, activism, and research spanning four decades, Julie and Basil have made significant contributions to the NSW and Australian HIV response," says an ACON statement on their award.
Prof Donovan and Ms Bates have worked together for over three decades and through their dedication, advocacy and expert perspectives they have been key influencers in policy change and in achieving very low rates of HIV among sex workers in NSW and in Australia more broadly.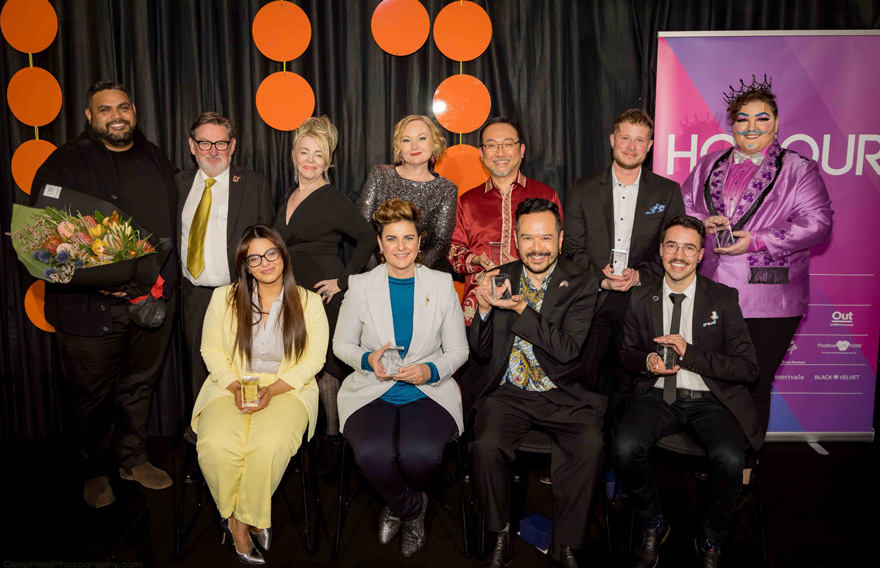 2022 ACON Honour Award recipients. Credit: Deep Field Photography
Presented by Positive Life NSW, the HIV Hero award is one of nine awards presented annually at the Honour Awards, which provides NSW's LGBTQ communities with an important opportunity to recognise excellence, celebrate achievements, and acknowledge the contributions of community members and organisations to LGBTQ communities. Also recognised were Dr Kerry Chant, NSW Chief Health Officer, and NSW Health, who received the President's Award, along with a diverse range of community members and organisations who have been leaders, advocates and allies to LGBTQ communities. The presentations took place at the 2022 ACON Honour Awards event.
Prof Basil Donovan AO and Julie Bates AO gave an 'in conversation' presentation at the Kirby Institute for World AIDS Day 2020, where they discussed their many years working together amid the HIV/AIDS epidemic to today. You can watch it back here.
For a full list of award recipients and coverage of the 2022 Honour Awards, head to the Honour Awards website.
Header Image
Credit: Deep Field Photography