During the inaugural David Cooper Lecture, Dr Anthony Fauci shared fascinating insights into the HIV/AIDS epidemic in the 80s, the global response to COVID-19 and the politics of anti-vaxxers.
Last night, thousands tuned in online to hear guest speaker Dr Anthony Fauci, the director of the National Institute of Allergy and Infectious Diseases at the US National Institutes of Health.
ABC's Coronacast co-host Tegan Taylor chaired the inaugural David Cooper Lecture at UNSW Sydney, kicking it off by asking Dr Fauci how the American COVID-19 experience compares to the Australian situation.
"If you look at the United States, we have 50 separate states and territories. We had an inconsistent response, which allowed us, unfortunately, to do worse than essentially any other country. We now have over 555,000 deaths. And as of this past weekend, we had up to 80,000 new infections. So, it's a complicated situation. Australia, I believe, is one of the better countries in the entire world with how you responded.
"You had the capability and uniformity of your citizens, so when you shut down, you shut down very effectively. And I'm sure not everybody in Australia was excited about having to shut things down. But you did it in a way, which was really quite uniform. But importantly, effective," said Dr Fauci.
The topic of President Trump and the challenges Dr Fauci faced during Trump's presidency in terms of the COVID-19 public health messaging was also raised during the lecture.
"One of the difficulties that we experienced last year, during the height of what was going on, is that I had to – and it was very painful to do, but I had to do it – come out and essentially contradict what the President was saying, which is a very difficult thing to do," said Dr Fauci.
"It led to some obvious strain and stress between us, which even now after the former president is no longer in office, still talks about it, which is unfortunate." Dr Fauci noted that under the new Biden administration, the fight against COVID-19 is now being driven by science and facts.
During the lecture, he discussed the issues surrounding individuals refusing to accept the vaccination and what the reasons are behind this mentality.
"It really is a complication of an anti-science atmosphere that has evolved, again, with a certain type of political persuasion that 'scientists don't know what they're talking about. A lot of this is fake news. A lot of it doesn't exist'. To say things like that, when you have a terrible pandemic, is almost inexplicable.
"But unfortunately, it's happening. One of the more difficult aspects of this entire endeavour here is that it has occurred in a situation of very intense divisiveness in our country. And we're not just seeing this in the United States, we're seeing some of this in the European Union as well," said Dr Fauci.
From HIV to COVID-19
In the 1980s, Dr Fauci was involved in the US response to HIV/AIDS, and it was during this time he met Professor David Cooper AC, the inaugural director of UNSW Sydney's Kirby Institute, and for who this lecture is named. He spoke of the approach he and Professor Cooper took in their respective countries during the HIV epidemic. He stressed the importance of the gay community, sex workers and injecting drug users having a voice and being part of the decisions that were being made that were directly affecting them.
Ms Taylor asked whether this approach would work for COVID-19 and those who are still not convinced vaccinations are safe or beneficial.
Dr Fauci said he and Professor Cooper shared the same attitude towards reaching out to the community during the HIV/AIDS epidemic because those affected were essentially pushing back against the scientific and regulatory establishment.
The community felt they were not given a voice and didn't have a say in what was directly affecting them in the design of clinical trials. It was taking years to make decisions about drugs when at that time, they had a lifespan measured in a year or less.
He said, while the community were being iconoclastic, it wasn't a political difference. It was a difference in saying, 'Listen to us because we feel we should have a voice in what is being implemented'.
"So, when I extended myself, to them, and said, 'Let me listen to what you have to say', what they had to say made absolute sense. I said to myself, if I were in their shoes, I would be doing exactly what they're doing," explained Dr Fauci.
"That is an entirely different situation, from someone that tells you that this is all a hoax and it's fake news. There's a big difference there. So, although I would love to, and do extend myself, with a substantial investment of time to advise people to get vaccinated, the hardcore ones that don't want to for political reasons, I don't think I could change their mind.
"We have a very important situation in our country with minorities because they are justifiably somewhat sceptical about anything the government does, because of the way they have been treated. So, the way we try and approach this is, we totally respect their scepticism and say, let's get together and try to work our way through this."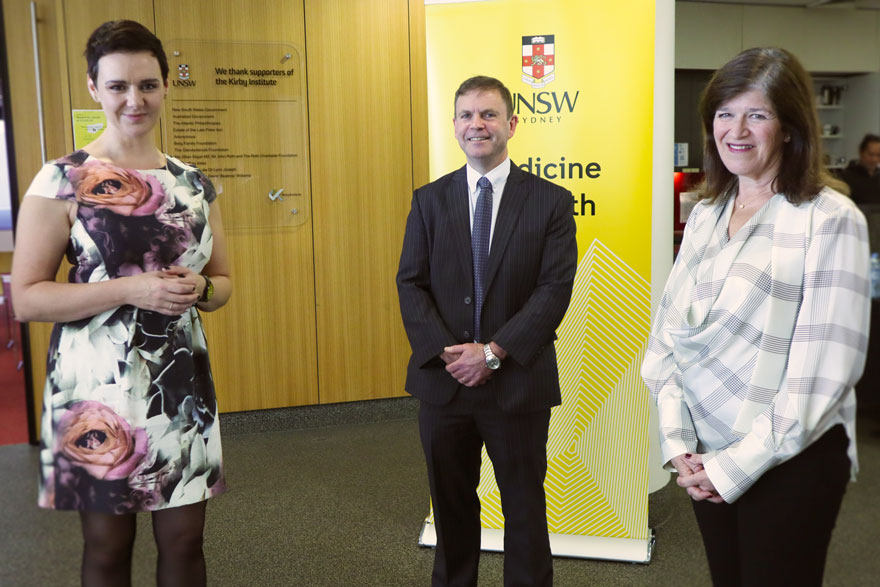 Tegan Taylor (ABC's Coronacast), Professor Anthony Kelleher (Director of the Kirby Institute) and Mrs Dorrie Cooper (wife of the late Professor David Cooper) at a live stream event of the David Cooper Lecture.
Honouring the memory of Scientia Professor David Cooper
Scientia Professor Vlado Perkovic, Dean of UNSW Medicine & Health, said it was a privilege to host Dr Fauci at UNSW for the inaugural David Cooper lecture.
"Dr Fauci is a key architect of the HIV/AIDS program PEPFAR, an initiative that has saved over 18 million lives, as well as a leader in the fight against COVID-19. This lecture is to honour the memory of Scientia Professor David Cooper, who also dedicated his work to the prevention, treatment and cure of HIV."
Professor Anthony Kelleher, Director of the Kirby Institute, said he was thrilled the Institute was able to host the inaugural David Cooper Lecture online, allowing thousands to access this important event.
"These are strange, new times that we are working in, but a silver lining perhaps has been the realisation of how relationships and collaborations can continue through online technologies. This lecture with Dr Fauci has been a prime example of that," said Professor Kelleher.
The inaugural David Cooper Lecture honours the legacy of the Kirby Institute's founding director Professor David Cooper, who passed away in 2018. He was an internationally renowned scientist and HIV clinician.
Contact
Emi Berry, News & Content - Medicine & Health
Phone
0413 803 873
Email